In the process of shifting people's motivation from extrinsic to intrinsic, there are a lot of things people can do to increase their level of motivation.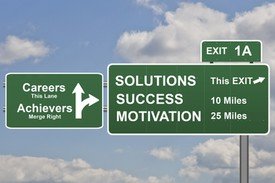 Ultimately, motivation is rooted in human desires, but until you have created a complete shift in the feeling(s) of motivation, there are a number of things that you can do to move forward.
There are strong passions and desires that drive behavior, but most people live lives that are devoid of passion and counter to their deepest desires. One of the strongest motivators, that of Fear, is typically hooked into a "fear" of change, causing people to want to maintain the status quo…and maintaining the status quo doesn't allow for success or any achievement…and a life devoid of personal pride and a sense of importance.
So what can you do?
What can those you help/coach/influence do to be more motivated?
1. Reward yourself for the work you did. This will boost your morale and cause you to take more similar actions in the future since you know that your entire effort will be at the very least – self-acknowledged.
2. Allow yourself to feel a sense of accomplishment at the end of a task. Few things are more convincing than this ultimate feeling of accomplishment. If you have this feeling, it nurtures a sense of self-worth and a spirit that nurtures a belief that you can face just about anything.
3. Learn something from every task – even the humblest things you do. I was a janitor for two years. There are few jobs more humbling. No matter what task you do, it teaches you something and CAN bring you closer to your most deeply felt desires in life. You comprehend, learn and evolve and thus are more responsible to achieve a goal that once seemed impossible for you.
4. The magic of deadlines…
Setting deadlines prevents you from procrastinating about small things that can be executed by you only if you don't give more preference to your personal comforts and temptations. Deadlines make you to control yourself in a professional and self-disciplined manner.
5. Motivation works better for most people with a back up and support system.
Whether its financial problems or simply emotional challenges…when you are the sole entrepreneur of your business, it's tough to fight against all odds. If you have a reliable support system, even if they cannot erase all your problems, they can always help you by being there.
6. Have an outcome to achieve with every action you do.
No matter what your work is, if you have your outcome focused directly ahead…extra enthusiasm and drive is added to your actions. The predetermined outcome motivates you, inspires you and helps you to never forget your purpose.
7. Importance of sleep…
In real life, you typically don't even have proper time to take a nap. The stress levels in work rise even more if you don't pay heed to your health and sleep peacefully. A small nap can do wonders. It can rejuvenate your whole body and bestow you extra energy to complete your pending tasks. Same goes with taking breaks during working hours. Rather than distracting, they will help you to focus more on your work with added zeal.
There comes a point in most days where I get up and go to bed for 10-45 minutes. Without that brief break, my productivity would drop dramatically.
8. Flowers and plants motivate.
Add simple plants and flowers to your surroundings. Flowers have an aesthetic beauty in them and help you by rejuvenating the entire atmosphere. It will permeate "positive vibes" in the entire surrounding and literally cause higher productivity.
Texas A&M University reported the effect of flowers on the workplace. The experiment was carried out with the staff members of hectic official workplaces that were involved in problem solving procedures. The addition of flowers enhanced their motivation and productivity. It was gradually discovered that the employees of both the genders had more innovative thinking and ideas when they had flowers in their workplace. Plants help prevent monotony in the workplace. They can create a pleasant and maybe even more "enthusiastic" environment within which to work.
9. The importance of your approach…
Knowing when to persist and when to change and THEN persist matters…
Are you annoyed that things are not turning out the way you had planned? Take a break and contemplate what went wrong.
Fix things.
If the problems still persist, the loophole lies in your approach towards the task. Trying out new ways of perceiving the task will not only give you new insights, but also bring out more possibilities.
Always remember that there are multiple ways to handle any task. Most of the time, people who get bugged by constant failure don't try adopting different approaches. If you do so, you will obviously find one approach that will not only motivate, but also inspire.
10. Try changing your routine. Become familiar and accepting of change. Let it be OK. Even a small change in your existing routine will make a difference and help your motivation level bump up a notch.
11. A good way to boost your attention meter is learning anything new that you always wanted to learn. So buzz up your brain cells and get working.
12. Exchanging ideas amongst a group of people who are from your area of expertise will help you gain newer directions of working and new prospectives to think upon. This will ultimately boost your motivation level.
13. Improvise on your working skills. Search out new ways and means of how to complete a task easily, and in short time you will see the difference it makes to your motivation quotient.
14. The ultimate suggestion to you would be to take that short break, holiday or vacation that you have stacked up on the shelf so long. It does not necessarily mean that you have to go somewhere via plane, train or automobile, but just take a few days off from your job and relax. Spend connection time with your friends and family, have fun.
15. Reading for motivation…
Garbage-in-garbage-out or GIGO is a universal principle used in the computing world. It simply means that if anything bad is input into your computer, then its output will surely be bad or in other words, if input is bad then the output will also be bad. But let us now reverse the process to good input will give good output; meaning good-in-good-out or GIGO.
So just as in a computer – if you install good input then you can always give a good output. Just think of your actions. Are they inspirational and positive or are they drawn back and negative? So you see this input will determine what outcome you are going to show in your personality.
Every successful person I know reads…a lot.
And most of them listen repetitively to CD's while they commute or go from appointment to appointment. It makes a huge difference in your life results when you constantly feed your mind good stuff.
16. Switch between two tasks while doing both. This will help you maximize your work and get that break that you need from doing one task at a time. If you keep on doing the same task again and again, then there is a high chance that you will get bored and will not feel like doing anything else. In this regard you can exchange work with your colleagues if your boss permits it. Tell him I said it was a good idea….
17. Soft background music that YOU like will help motivate you and will increase productivity.
18. Prioritize your work from day to day. Keep the list in order and work it. The fact that you have checked off the most important tasks of the day will motivate you all the more.
---
I've identified 12 of the life patterns which cause us to trip up – and make the same mistakes again and again. To discover which of the 12 patterns you have been the victim of and how to eliminate self-sabotage in your life (or those of your clients) you can pick up the program below.
Lifestorms: 12 Obstacles to Achievement: The Paradox of Overcoming Self Sabotage to Achieve Love, Power, Money and Happiness.
by Kevin Hogan
3 CDs in this program – and it comes with a BIG WORKBOOK! And now, get a free Lifestorms DVD presentation with your order!
Discover why life often brings you exactly what you don't want…and how self sabotage can hide around every corner. Some people have guessed at the bizarre nature of self sabotage. Guess no more. Self sabotage is very real in everyone's life. It is completely devastating and 100% resolvable!
Do you ever know you should start on a project but don't?
Do you have projects that you have started but never finished?
Do you ever say the one wrong thing at the wrong time?
Have you ever had things going well in life only to have everything blow up in a day?
Have you tried to be so careful not to make a mistake that you were shocked when you made a truly costly one?
Have you ever promised yourself to stay out of trouble in some way only to find yourself in the same trouble or worse again?
Now you can discover your own life patterns so you can eliminate unconscious self sabotage immediately. This program will break the heavy chains that hold you from your dreams and your goals.
This program is the first program ever made public that shows you how to identify specific self sabotaging behaviors and negative life patterns. Better? You can ultimately erase those life patterns and rewrite new "schemas" into your brain that will allow you to meet your goals and experience fulfilling relationships.
Here is what you will learn:
How to identify which of the 12 negative life patterns you live.
How to find the triggers of the lifestorms that you just can't believe you experience.
How to change the self sabotage into success, happiness or something productive.
How to remove almost all obstacles between you and your goals.
How to understand those around you so you don't push their buttons.
How to predict your behavior and that of others.
How to actually achieve your goals so they are more than just a dream.
No one anywhere has ever put such a program on CD. There is not one person anywhere who can't utilize every minute of this insightful information. These three CD's are packed with the most powerful tools for getting past life's roadblocks and personal sabotage ever imagined. Anyone can utilize this information and I personally guarantee that if you follow the instructions you will not experience self sabotaging behavior anymore. Your goals become reality at speeds faster than you ever imagined.
Learn More About Lifestorms or to order