with Kevin Hogan, Psy.D.
Do YOU have a question? E-mail askkevin AT kevinhogan DOT com
Do you have a question for Kevin?
Your question will remain anonymous unless you specifically ask us to post your name!
If your question is published, your name will be submitted in a drawing for a gift certificate to be used in our catalog at any time.
Dozens of gift certificates have been awarded – submit your question for a chance to win!
This Week's Questions: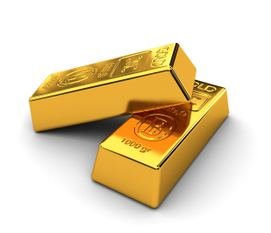 Q… I took your advice about 10 years ago when you said to buy gold. My account went from about $80,000 to around $260,000. Since then it has gone down and back up but hasn't moved much in the last year. Can gold go up again? Should I move my money into the stock market? Bonds? Is the market going to crash again?

Answer: Gold has been sitting around $1250 for quite awhile. I don't expect any major changes in 2017. (It will probably trade as low as 1050 and as high as 1400 this year.)
Gold continues to be an excellent way to save part of your money each year.
When everyone has tapped their 401 k or home equity and are broke, you'll have your gold when you really need it.
I see the U.S. stock market for the balance of 2017 running between 18,000 and 23,000 for the rest of this year. It will be volatile at times but the fact is The Fed will keep short rates low while they continue to print paper to prop it up as much as they can for as long as they can.
Record PE levels with interest rates that will not go dramatically lower will eventually checkmate the current market.
I have put a small amount of money into the US Market, then larger amounts into Chinese stocks, payment systems like (IPAY) and have a chunk in gold and gold stocks. The markets are very high but you can't predict with precision just how crazy the public will become. There will probably be an acceleration up of another 10% or more this year but then I suspect there will be a cliff off which the market will fall from. When the market hits that 23,000 area it will be time to sell for me.
Perhaps you will dollar Cost Average 1/5 in physical dollars or money market, 1/5 in the physical metals, 1/5 in the U.S. Market, 1/5 in metal stocks and 1/5 China.
US Bonds could go up in price, but I'm holding onto what I have here and not adding to those positions.
Q… Why did you stop talking about investing in Coffee?

Answer: Frankly, we made a lot of people wealthy in Coffee. I'd like to create a subscription newsletter as the markets are so fluid and volatile. I might do so this year, we'll see if the demand is there.
Q…The Unemployment Rate is really low right now according to an infografic I saw on Facebook. Is it a good time to look for a new job or start a small coffee table business right now?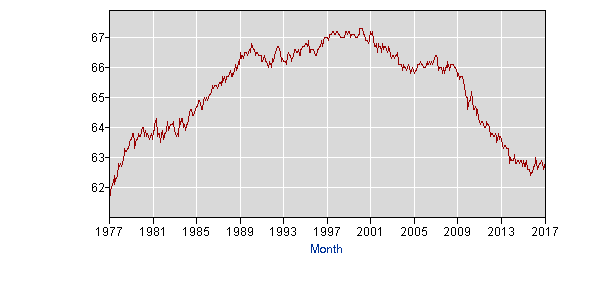 Answer:Unemployment has not been HIGHER in over 40 years.
The REPORTED unemployment rate is low. But the real life numbers are very different. See the chart from the B.L.S. for the number of people with jobs in the U.S. for the last 40 years.
That said, on average, it's probably a better time to start a project than it is to get a new job. Let's look at why. The Labor Participation Number this month (Feb 2017) is the lowest since 1979. (63 million people have jobs today and 63 million had jobs in 1979.) That means a smaller percentage of people have jobs in 2017 than at any time in the last 40+++ years. Today, only 1/3 of all people 18 and over have jobs. A lot of people simply choose not to work and obviously some job markets are tighter than others. This is why developing your own business is so important.
There are great opportunities today in selling, for example.
Start a small coffee table business. It costs next to nothing and ultimately will reward you for your effort.
Q…What is the right program to start learning about influence?

Answer: Begin with some programs that are truly enjoyable and compelling. Covert Hypnosis, Covert Influence, Instant Influence. Those three.
Q…How is your Inner Circle like or different from others that borrowed your idea?

Answer:Inner Circle is a unique participation opportunity not modeled on anyone else's program.
See Kevin Hogan's Inner Circle.
A lot of people have tried to grab our approach but without the people or latitude of knowledge it's useless. This is not a mastermind. Napolen Hill didn't say "get 10 people together and put your heads together." He was referencing being a part of a group that has real experience, lots of serious sharp minds with different experiences. Do check it out. If it looks right for you, apply. If it doesn't seem like an amazing life shifting long term experience for YOU, look elsewhere.
Q… I've heard it said that math is honest because numbers don't lie … would it be fair to say that, in human behavior, patterns don't lie?

Answer: Human behavior, in general is predictable, in specific situations and broadly speaking. When people are conscious, it's more difficult.
Behavioral patterns are definitely predictable.
Do not assume that means 100% of the time, a prediction will be correct. You won't get there. Ever. Predictable means that the vast majority of the time it's predictable. Fortunately/unfortunately people are unconscious about 90+% of their day. Predicting unconscious actions is much easier than when people are alert, thinking, and engaging in life in a non-stimulus response fashion.
If you have the right information you can make solid prdictions. If you don't you can't. The "triggers" and emotional "heuristics" that are working in the nonconscious part of the brain cause people's behavior to replicate over and over and over.
Q… A few weeks ago you said that "photo-reading" doesn't work.. But what if my reading speed is below average – 200 word per minute? I clearly don't need to read 25k words per minute, but 0.5k – 1k would be nice. Do you think that learning some of the techniques is waste of time? Why?

Answer: Reading 1000+ WPM is not going to happen for 99+% of people. It IS possible, just not likely. You're at 200 wpm and you personally COULD double your reading speed with a good course. They are out there and we've been working on putting together an accelerated learning course for the last few years and will release it in the next six months or so.
Q…You said that it is important to take naps during day. But usually, even if I'm tired it ends up with an hour of laying in the bed without a minute of sleep. Is there a way to fall asleep fast?

Answer: Your nap doesn't absolutely require literal sleep. Allowing your brain to rest on "pause" for 20 minutes is good enough in the afternoon. Your night time sleep however requires plenty of time.
Q… If someone is defensive and rambling on, is this a sign of guilt? Wouldn't a person that is not guilty be more direct and clear stating they are not guilty several times?

Answer: It's NOT a sign of guilt and certainly not in all contexts. People who are unjustly accused of a crime are just as likely to act as if they've lost it…act as if they are guilty…as those who actually commit the crime. Defensiveness is just that. The person is feeling attacked and they are defending themselves. It's a logical reaction to the stimulus.
Q…What would be the first 2 or 3 Life Storms a person – who has all of them – should work on? Is there any particular order? Do you recommend combining any of the Life Storms or do one at a time?

Answer: The order of self work is not important. I'd pick TWO and work on them for a few weeks then add TWO MORE. (Find the Lifestorms audio home study program.)
Q… I enjoyed the Body Language Course very much. Is there an advanced course? Do you have perhaps weekend seminars at your home office or private lessons?
Answer: There will be an Advanced Body Language Course released later in 2017. It will be comprehensive and go where no man has gone before….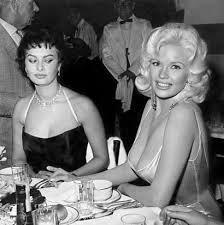 Q… I really appreciate the information that you send me. I have some questions about nonverbal communication between men and women. I have looked up different sites on whether women are better at sending and interpreting signs given by the opposite gender. I didn't find any source that gave me a definite answer on this. I hope that i can get some help from you. And i would be very glad to get information from an expert on the topic that i am focusing my research paper on "Nonverbal communication between men and women" I look forward to hearing from you soon.

Answer: Sophia Loren read Jayne Mansfield's body language in this famous photo. Mansfield of course was making her own impression for onlookers.
Perhaps my favorite body language photo of all time… And it's true, women, in general, are better than men at reading and intentionally sending more accurate body language cues. They also tend to be better at Impression Management. Interpreeting cues from others is a different story. There is no real difference in inborn skill levels on the decoding side. It is learned through the different modes of socialization.
Q.. I notice some interesting Email subject lines sometimes – and it leaves me to wonder the intention behind them. Using words in subject lines like: fail, slacker, loser, bum, … etc. seems like it is undoing the desired result. Have you ever talked about that because I am wondering how the brain interprets that – I know how mine is.

Answer: The goal of the subject line is to get the person to open the email. The marketer believes that these words (and may have evidence to show) cause people to open the email. I prefer to avoid most of those words, except "fail," which is extremely important to success and achievement.
Let me know the results of any test you do. I'll be interested!
Q… Can hypnosis help with stuttering?

Answer: I've seen it help a lot and I've also seen it to be impotent. Find the BEST (references are nice) and give it a try. The BEST probably lives an airplane flight away from you.
Q… I am currently reading your book, Through the Open Door, and am finding it really exciting. The way that you and Ms. LaBay describe the causes and effects of problems like low self-esteem, fear and procrastination resonates with me like no other self-improvement book I've ever read, and that gives me a lot of faith that your techniques for addressing them will work for me.
I just had a couple of questions about how you recommend using these techniques.
First, with the Splice and Swish technique for procrastination, you mention that you did this 40 times in an hour. Is the goal to do it 40 times (which may take less than an hour), or to spend an hour doing it? It seems like it would take an extreme amount of discipline for someone without any self-hypnosis or meditation experience to focus on this one thought pattern for a whole hour. If the goal is to do it 40 times in one hour, would you, say, do it 10 times, take a break for five minutes, come back and do it 10 more times, etc? Or do you really have to stay focused on it for the whole hour?

Answer: No break. Just do it. Over and over again.
Q… My second question has to do with the recorded meditations in your book, Tinnitus: Turning the Volume Down. How often do you recommend using them in order for them to be effective? (several times a week, several times a day, just once or twice…)
I truly appreciate you taking the time to answer my questions so that I can get the most out of your wonderful book.

Answer: Use them before you go to sleep, as you are going to sleep. Nothing sinks in once you are sleeping but those minutes prior to sleep are highly suggestible moments in your day.
Q.. I'm a police officer from Canada. I'm an avid regular reader of your books / audio / Coffee with Kevin. Your work has really helped me in my career and influence ability.
The reason I'm writing is that I need your advice on how to proceed with a situation. My agency belongs to a Hate Crime Team that has an annual budget of XXX amount for the purchase of equipment, training, courses etc. At the end of this month, I will be asking for 30K to undertake an degree in Forensic Psychology and Criminal Investigation with a University abroad. Normally the courses and training that they approve are short term ones – but what I'm asking for is not specifically prohibited either.
I overcame one hurdle using a "Hogan" technique. I learned that the new team leader is very controlling and authoritarian. When I initially put the idea to him, I used the "I'm not sure if you have the power or authority to approve this type of request…" and it worked! He agreed that, while unusual, he would allow me to put a proposal forward to the team and if there were no objections, he would approve the request. I've never met any of the other 10 agency reps on the team. Some things I do know is that we have enough left over in the budget which must be used or we lose it by the end of March. The Program is 24-30 months in duration and I can commit to remaining with the team for a 5 year period. The team leader has asked me to put forward a written request to the team members for discussion at our meeting in April.
Any ideas on how I can maximize the possibility of influencing the team members to say yes?

Answer: It will all come down to how effectively you show how the department will benefit from the course. And of course your follow up argument, if required, as it being your "right" as a "benefit" of being on the department.