with Kevin Hogan, Psy.D.
Do YOU have a question? E-mail askkevin AT kevinhogan.com
Do you have a question for Kevin? Your question will remain anonymous unless you specifically ask us to post your name! If your question is published, your name will be submitted in a drawing for a gift certificate to be used in our catalog at any time. Dozens of gift certificates have been awarded – submit your question for a chance to win!
This Week's Questions:
Q… Is there anything that can give you dramatic increases in IQ? I've tried classical music and swimming under water.

Answer: There is split evidence on Mozart. I think you listen to enough Mozart you are going to get bumped up a point or two. Dr. Carol Dweck has shown that those who believe they can learn more and more effectively…can and do.
The opposite is also true. IQ is not a permanent number. It's not easy to move up, but the evidence is solid that you can.
Q… How do I use desires, priming, and characteristics with my roofing lead generation? For example, I think people that look for a roofer are skeptical and are scared of being ripped off. Does the word "integrity" seem like a word I can use for subliminal priming on my website?

Answer: "Integrity" is probably not good as a subliminal prime for your website. You'll need to select a word that parallels the buying desire/drive and also does not have a double meaning. People looking for a roofer want to not get ripped off. We'll work on this in a consulting call. Perhaps "honest" or "trust." You could test those (and, of course, you can test "integrity" as well!)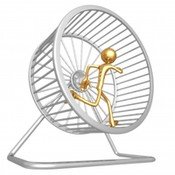 Q…I'm on the fence about participating in the Internet Marketing Course. I've seen what it's done for other people, but I'm concerned about the time investment. Can you persuade me to register?
Answer: You either want to live in a hamster wheel or you don't. There is no fence. You either produce or solely consume. Become valuable. Time investment: Nothing "fast and easy" will get you where you want to go. Of course, you can wait as long as you like….how ya' feelin'?!
Q…Tom Hopkins' classic strategies stress the importance of hand written thank you notes as core of the business marketing and relationship building method. In today's world do you see this as an appropriate tool for someone working as a salesman in a small town or community?

Answer: Same thing. How can you go wrong?
Q… In your brochure for Influence: Boot Camp you mentioned that getting people's attention is old news and doesn't work anymore.
I understand you cannot go into it, but in a word could you say what is the new thing and if any of your products cover that info as I'm not able to attend your seminar?

Answer: Perhaps a bit out of context. We live in an absolutely stimulus overload world. That can be fun and exciting or it can be overwhelming. The Science of Influence CD series covers hours of this.
Do know that "interruption marketing" for attention is simply out. You need to be surprising and use entropy. All covered in Science of Influence and the various Covert Hypnosis and Covert Influence programs. Invest some time into these programs. You will never regret it.
Q…I've read Covert Persuasion & Science of Influence, pretty good reads – now I'm a fan.
I have several questions. 1) How do you take advantage of the knowledge that your prospect is a skeptical person (increasingly critical over time)?

Answer: -This is discussed in painstaking detail in one of the The Science of Influence CD series. You'd have to do the research to see which one.
The short answer is: skeptics become more skeptical as each moment passes by. Ignore benefits. Focus on features. Get the hard evidence out up front and be direct, concise, and to the point.
Q…2) How do you make use of anticipated regret? (or counter it)

Answer: You can either take the Internet Marketing Course or spin your Hamster Wheel. You can build something that works for you while you sleep, if you will, or, you can simply try and find some "balance" for the horrifying day you experience each day where you go to work….
In other words, take them to where it hurts, fix it for them, and then leave the choice up to them…
Q… 3) "Do not have your client verbally state anything you want him to change later" – Covert Persuasion; how then do you find out your client's current beliefs and position without them having say anything? (or what is the proper interpretation of the quote)

Answer: Carefully and wisely selected questions. "How do you feel about Democrats?" "Can't vote that way." If you are trying to get that vote, you lose. Instead: "What do you like about Democrats?" or "Is there anything in the liberal ideology that makes sense?" or "Clinton was a democrat, albeit centrist and he balanced the budget. True or true?"
Q… I'm getting a lot out of Coffee with Kevin Hogan. Video or written, both have great content. I've blogged a couple of times about how some of your work relates to networking. I appreciate your perspective. I see that networking can be viewed as persuading someone to know, like and trust you in (usually) just a few interactions.
I just purchased your book Irresistible Attraction and I'm looking forward to reading it – of course – because I think it will make me a better networker. But there's something else I'm looking to get out of it that I thought you might have some insight on.
I've met women who worry about networking because they are afraid of coming across as flirtatious. Is there any way of learning about persuasion to /reduce/ this affect? I want to be able to give advice to women who worry about this.
I realize that with some men, wearing a full-on padded wool body suit would still be considered flirting, but what about the reasonable, well-mannered man? Any way to *not* flirt?
Is it a matter of taking the advice in Irresistible Attraction and reversing it? Or is this an impossible task?
Answer: Most women don't really have this problem; they simply perceive that they do. (ouch) But if you are in that top 25%, then you definitely need to dress more conservatively and keep greater distances and offer fewer smiles than you normally would. Keep your vocal intonations moderated as well. (Great question, by the way!)
Q… 1) I want to study psychology. Which area of psychology do you recommend and why?
2) How much is the average pay after 10 years of studying psychology?
3) Which is the area where they pay the most?
4) What area do you recommend the least?
5) What is the most famous/wanted school of psychology?
6) What is the thing you like most about being a professional psychologist?
7) What do you not like?
8) How long would it take to be an expert psychologist?
9) Is it a very busy job and will it require many sacrifices?
10) What will be the hardest part of studying it?

I can't recommend a specific area of psychology. This is individual dependent. Study social psych, neuropsych, behavioral psych, and on and on. You'll find a couple of loves along the way. Psychologists that work for hospitals/clinics/institutions make LESS than any other Ph.D. coming out of Grad School. Best money is definitely in research at Universities, major corporations and in private practice.
I don't recommend anything least. Again, it's what you love…No idea what the most famous school for psychology is. Google that one. I'm not a "professional" psychologist. I never got licensed. I was board eligible but never wanted to go that route.
To become an expert in a niche in psychology is a 5-10 year plan of experience and research. It's as busy as your clientele and you will sacrifice a great deal of time and money as you work, especially in Grad School. Hardest part of studying is the same as in any school, retaining the data the professors think is most important!